Welcome to The Pyrotechnic Artists of Texas!
The purpose of the Pyrotechnic Artists of Texas, otherwise known as PAT, shall be to promote and encourage safe, legal and artful pyrotechnic design, construction, operation and enjoyment in Texas through training, demonstration and exchange of information.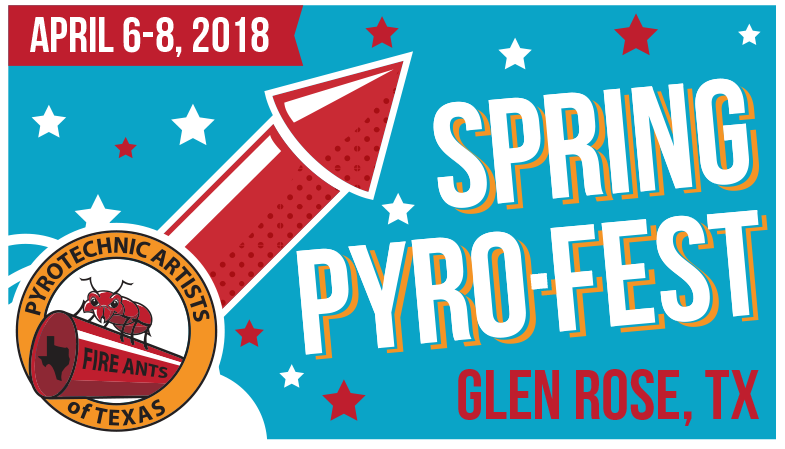 Spring Pyro-Fest 2018 is focused on sharing pyrotechnics display and manufacturing experiences and knowledge. There will be an opportunity for Pyrotechnics Display License Sign-Offs Available to those who participate in building the 1.4G (C) and 1.3G (B) Displays.
There will also be guided Manufacturing of Pyrotechnics Effects on site.
PAT Members will offer training Friday & Saturday on:
• 1.3 (B) Display
• Licensing & Regulations
• Mortars/Guns
• Mine Building
• 1.4 (C) Displays • Firing Systems • Rocket Building • Shell Building
Gates Open 11:00am. Manufacturing Open 12:00pm – 11:00pm. Open Shooting 12:00pm – 11:00pm, no salutes after 10:00pm. Manufacturing instruction during the day. We encourage members, especially those manufacturing, to arrive on Friday. This is the best opportunity to meet, make connection, catch up and prepare for Saturday.
Saturday:
Mandatory Safety Class at 10:00am. Manufacturing Area Open at 11:00am. Instruction in 1.4G (C) product types and techniques and a 1.3G (B) Display will be built during the day. Instruction on Manufacturing during the day. Display will be ignited at 9:00pm. There will be Open Shooting from 12:00pm – 11:00pm, with no salutes to be ignited after 10:00pm.
Sunday:
Clean Up in morning. This is Required for members wanting Licensing Sign-Off.
Location:
Stasey Ranch
4137 County Road 196 Bluff Dale, TX 76433
Cost to Attend:
2018 PAT Membership $120 + Event Fee $20
ONLY MEMBERS OF PAT MAY HANDLE FIREWORKS.
Viewer you can watch Training, Demos, and attend Saturday Barbecue. VIEWERS CAN NOT HANDLE, OR IGNITE FIREWORKS.
Children Under 16 FREE – Children under the age of 16 are free. Guardian should
be with in arms reach at all times.
To speed up your on-site registration, you can bring a signed PAT Liability Waiver with you. The form is here.